Special Item: SILVER COIN
During the fall of 2007 the members of the AVOW (Another Voice of Warning) preparedness forums designed a custom silver coin that reflected our beliefs as members of our church. This resulted in two coins being minted for us. The first was a 1 ounce 99.999% pure silver. The second was the same coin but with the addition of a 24k Gold Plating over selected portions of the the silver. While the silver coins were everything we had hoped they would be, the gold coins turned out to be simply stunning. Both of these coins are now available here in the AVOW store for Pre-Ordering.. They can be for gifts or as a way to stock up on some Silver Bullion as a hedge against uncertain times in the future.
These coins are intended to be part of your overall preparedness plan, and allow you to set aside some money for true emergencies.
Please click on the image of the coin to get a DETAILED explanation of the inscription, a HIGH RES photo of the actual coin.
Some Really Important Notes about buying these coins!!
1st : This is a special order Group Buy item.
These coins are NOT in stock, and are a custom order non-stock item.
In order to get these prices on silver coins, you are placing your order in advance, to be part of a custom mint run on these limited edition coins. When all of the orders have been assembled, the mint will strike all of our coins at once, and then upon delivery, we will begin shipping them to our customers.

2nd : On all coin orders, please use PRIORITY MAIL-INSURED for delivery.
If you fail to select this shipping method, your coins will NOT be shipped until this has been corrected. No coins will be shipped without insurence.
3rd : All coin orders must be fully-prepaid and are non-refundable.
4th : Please DO NOT order any other items with these coins.
The coins are a non-stock item, and will not be shipped with any other merchandise when they arrive.
5th : PLEASE PAY BY PAPER CHECK - NOT BY CREDIT CARD!
The credit card companies and PayPal have both asked us not to use them for Bullion Silver sales. Please chose PAY BY CHECK when asked for payment details at checkout. When you have completed your order, please write out a traditional paper check and mail it to us.
Make the check payable to LDS-AVOW, and mail to LDS-AVOW, PO Box 100, Rigby Idaho 83442-0100
Lastly: Significant aditional information about these coins and the ordering/payment/delivery process is available in the LDS-AVOW Preparedness Forums in this discussion thread. https://www.ldsavow.com/forum/threads/captain-moroni-coins-open-order-now-available.293158/
The order window for this run of coins will close on Tueday May 2nd. Anticipated delivery is the end of May 2023. All coin orders will be marked "BACKORDERED 5/15/23" upon processing. Production updates will follow from that point.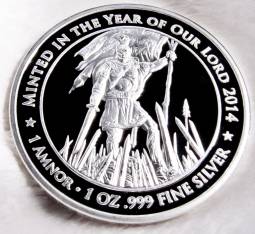 2023 Captain Moroni Silver Coin, (Bullion-Single)
Ratings Snapshot
Would recommend this product.
$999.00 SPECIAL ORDER
2023 Captain Moroni Silver Coin, (Bullion, Roll of 20)
Ratings Snapshot
Would recommend this product.
$1,999.00 SPECIAL ORDER
2023 Captain Moroni Silver Coin, (Bullion 100 coins)
Ratings Snapshot
Would recommend this product.
$9,999.00 SPECIAL ORDER